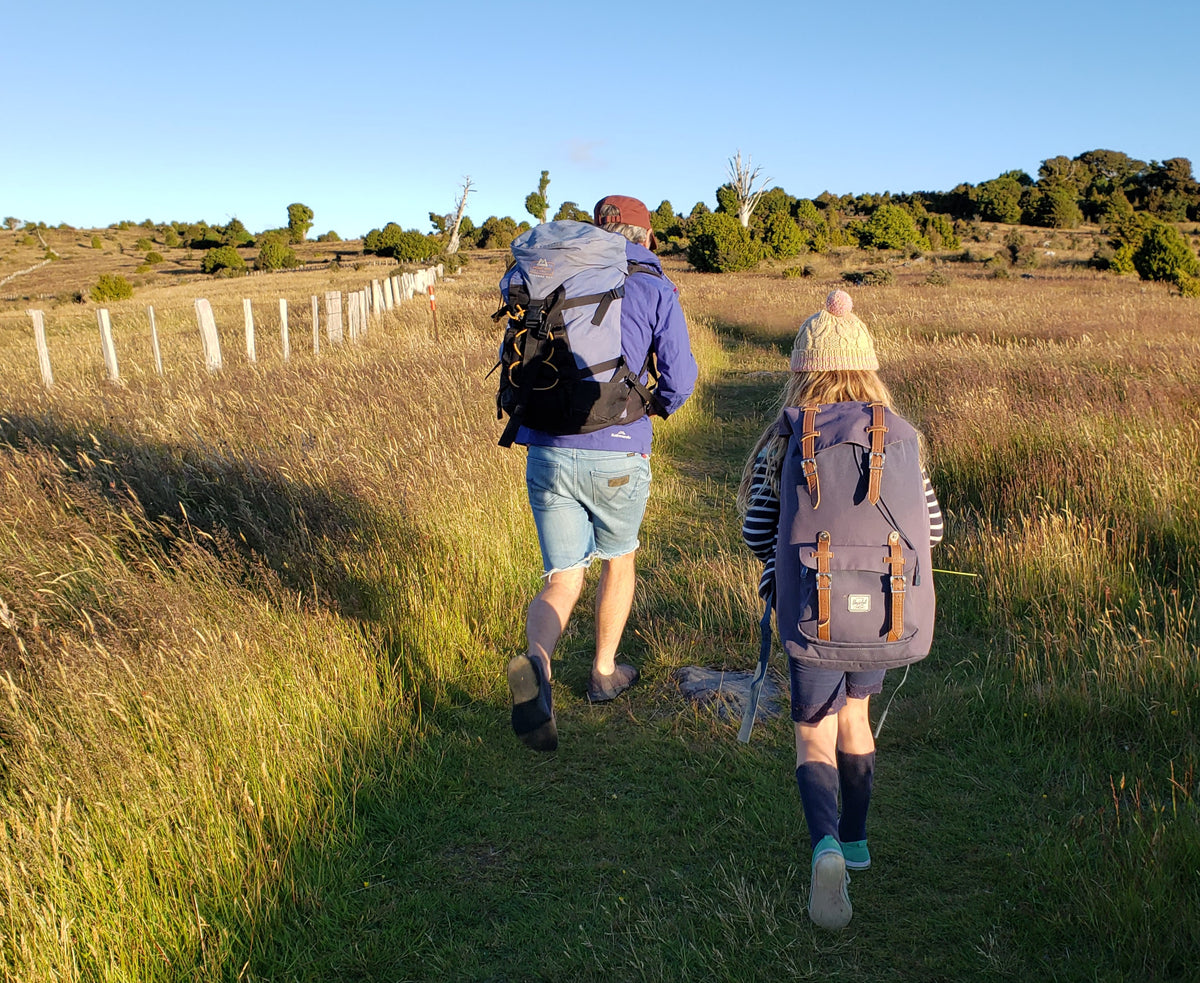 We almost didn't go.
"I'm not sure it's the right time", I said.  Lockdown had just finished.  Aotearoa's new traffic light system was in place.  Domestic borders were open and we were told it was safe for us to leave Auckland, but I wasn't confident that our long-planned trip to the South Island (to visit family members who we hadn't seen in many years) should go ahead.
In my head, I visualised having to wear masks on long-distance public transport, the awkwardness of interacting with loved ones while social distancing and the general stress of leaving home during a pandemic.
"You know that the South Island is probably the safest place in the world at the moment?", my husband replied.  "And this might be the only opportunity we get for a long time".  Well, he had me there.  I hate it when he's right.
So, that was that.  We were going.  But, even though we were gearing up for the longest holiday we'd had since starting our zero waste journey seven years ago, there was no way I was leaving my trash-free habits at home.  If we were going to be travelling, we'd be doing it without using a bin along the way.  Not one!
Well, okay, so we did use a bin when we got home...to dispose of this lot 👇
But, I reckon that ain't half bad for a family of three living on the road for three weeks (during a pandemic!).  Not pictured is our recycling, mostly because it wasn't very practical to carry that stuff all around the country.  We did keep a tally though! 🤓
Our recycling consisted of the following:
Cardboard:  30 small pieces (toilet roll inners, luggage labels, antihistamine packaging and lots of train tickets)
Steel:  13 cans
Plastic:  2 jar lid wrappers
So, how did we produce so little rubbish?  Read on for my...
Zero Waste Travel Tips!
Plan your meals
We do this when we're at home and find that it saves a lot of food waste (and avoids the hassle of trying to answer the daily question "what are we going to have for dinner?").  As well as planning meals for our trip, I also brought along a small collection of dried herbs and spices, little bottles of vinegar, mustard etc., a few bags of pantry staples such as muesli, rice and pasta and a couple of containers of home baking to get us through the first few days.
The amazing duo that is Hannah and Liam, otherwise known as The Rubbish Trip, have done all the hard yards for us with their oh-so-thorough compilation of package-free grocery options throughout Aotearoa.  It is SUCH a helpful travel companion.  If you find yourself in a strange town wondering where you can get your hands on some package-free pretzels, this is the guide for you.  Hannah and Liam, you freakin' legends.
Compost
For most of us, it's pretty straight-forward to responsibly dispose of our food scraps when we're in the comfort of our own homes.  Lots of great options are available, from bokashi to worm farms to the classic compost bin.  When you're on the road though, a bit more effort is required to ensure that your banana skin doesn't end up slipping into a bin and making its way to the dirty ole' methane-emitting landfill.  We found that a simple ice cream container (inherited from a friend) did a fabulous job of securely holding onto our onion skins and apple cores until such a time that we could find a compost bin to empty it into.  Friends and family happily accepted our food scraps throughout our travels.  Another great option while you're on the road is ShareWaste, a fantastic online platform which connects people who have food scraps with people who have compost solutions.  Like the t-shirt says, I'm into composting 😁.
We wouldn't have been able to avoid massive amounts of waste if it weren't for our trusty reusables.  Reusable produce bags, reusable bulk food bags, reusable cutlery sets, water bottles and containers, in conjunction with the wonderful zero waste businesses found through the Regional Zero Waste Shopping Guide, all played a key part in our low-trash travel.  I'm pretty thankful that nobody has ever turned down our BYO containers.  Even during a pandemic, usually, where there's a will, there's a way and it's worth remembering that, when used contactlessly, reusable containers are arguably safer than their throwaway counterparts (which have to be handled by both employee and customer). 
If a food provider isn't keen to handle your reusables, they may be happy to put the food onto one of their reusable plates and you can then transfer the tasty kai into your container.  Hospo workers are working harder than ever.  They have the right to refuse BYO containers if it makes them feel safer or if it all seems too stressful and it's important that we respect that.  But that doesn't mean that we have to accept waste.  It's totally an option for us to smile, say thank you and walk down the road to find an alternative.
Use mylk concentrates
This was a game changer for us.  On our previous shorter trips away, we've always brought along jars of frozen homemade sunflower seed milk.  To be honest, it was a pain sometimes, particularly when we've been camping with no access to a fridge.  Each time we'd open the chilly bin, we'd check to see how much defrosting had occurred and would calculate what the milk's time of death would be.  The discovery of Mylk Made has been a revelation.  These wonderful little jars of plant milk concentrate are super easy to use.  Add one delicious tablespoon to a jar of water, give it a good shake and, hey presto, you've got milk.  Only make up as much as you need for that particular meal/beverage and no need to refrigerate the concentrate.  This is what we will be using for all future trips away from home. So. Freakin'. Easy.
Have leftovers for lunch
Okay - this one isn't so much a zero waste hack as just a general sanity-saving, time-saving life hack.  We spend so much of our lives sourcing and preparing food, that, if I can find a way to use that time more efficiently (and spend that time fighting for a more sustainable world!), I'm grabbing that opportunity with both hands.  Leftovers for lunch have been my kitchen saviour for many years now.  Why would I spend time making a whole extra meal if I don't have to?
BYO snacks
Whenever I leave the house and will be away for a few hours, I always bring a small snack with me because the last thing you want is to be stranded somewhere when the hunger pains come knocking and all that's on offer is food encased in waste.  This habit was particularly helpful for the long bus rides during our travels!
Say no
It's standard practice for our family to request no disposables with our meals, to refuse receipts wherever possible and politely decline wasteful freebies.  We did the same as we travelled around the country, leaving tiny sachets of sugar and shampoo where they lay.  
Use shampoo bars and bar soap
Speaking of shampoo, why would we tear open a plastic sachet and use its contents to wash our hair with, when we have our travel tin of shampoo bars, hand soap and shaving soap (care of Ethique, Beyond and Aoraki Naturals respectively)?  Shampoo bars and solid soap are also a lot more lightweight than their water-filled, plastic-encased counterparts.  Perfect for travel.
BYO laundry powder
Pack a small container of laundry powder.  Simple.
General Sustainable Travel Tips:
Choose sustainable transport
Globally, air travel produces around 915 million tonnes of carbon dioxide each year.  In New Zealand, our domestic air travel makes up about 6% of our carbon emissions.  That's not something that we want to contribute to.  So, because of its negative impact on our climate, we made the decision to stop flying.  No more planes for us.  In fact, I haven't jumped on one in about seven years.  And I'm not sad about it. 
Instead, we turn to more climate-friendly alternatives.  Our original plan was to travel from Auckland to Wellington by train.  Sadly, the train services were cancelled due to Covid complications and financial problems.  Sad face.  So!  We decided to take our Nissan Leaf on our adventure instead (its longest journey to date). 
One of the things I love about travelling by EV, is that it slows you down.  Unless you're driving something with a huge battery, you can't just zip from town to town.  Stopping to charge means stopping to smell the flowers, find a geocache, explore derelict train yards, have a picnic, wander through an out-of-the way museum and discover historic buildings in a small country town (you can't do that on a plane!).  It's actually delightful.
And for long-haul trips, it means stopping to stay the night at cool places.  Like this teepee in Raglan...
this backpackers in National Park (with its own internal climbing gym!)...
and this gorgeous old manor in Taihape
Thankfully, some lovely friends in Wellington were kind enough to let us park our vehicle up at their place for a couple of weeks.  We then jumped on a ferry to carry us across the Cook Strait, stopped for a night in Picton (after a refreshing undie swim at a lovely local beach), before hopping on a bus to Christchurch. 
From there, we hired an EV to take us further south to Oamaru, looping back round to Christchurch via Aoraki, Lake Tekapo and Staveley.  Not just any EV either.  We didn't realise it when booking, but we ended up driving around in a brand spankin' new Lexus UX 300e with a range of 360 km - a wee bit flasher than our usual ride!  And it was incredibly well-priced too. 
Then, as we headed back up north, we just used the same forms of transport, but in reverse.
Hire travel gear
While in Christchurch, we stayed with a family member who kindly let us camp out on the lawn next to her very little house.  The tent we have at home is ridiculously big and it seemed crazy to buy a smaller one just for this trip, so, instead, we made use of Mutu, a peer-to-peer rental marketplace app that allows you to rent or lend everyday items that would otherwise be collecting dust.  Brilliant!
Support sustainable businesses
It makes sense that the more we choose to spend our dollars with businesses that are doing the right thing by the planet (and recommend them to others), the more they'll thrive.  I try, as much as possible, to make sure that I take the time to thank businesses that are making the effort to be sustainable (and to suggest to their less eco-conscious competition that they follow their lead).  I can't tell you how much I'm looking forward to the day when it's normal for businesses to ensure that they aren't having a negative impact on our environment.  Imagine!  No need to double-check an organisation's eco credentials or having to worry about greenwashing!  Sounds amazing, right?  Well, if enough of us want it to happen, a sustainable future is possible.  Let's do all that we can to help to make that future a reality.
Big shout-out to the following forward-thinking businesses that provided environmentally-conscious product and service options during our travels (not sponsored):  Bin Inn Rotorua, Paperbag Princess Wellington, Magpie Manor, Real Food Pantry, Bin Inn Timaru, Ezi Car Rental Christchurch, GoodFor Christchurch, Mutu, Mylk Made, Sweet Release, Duck Island Ice Cream and Nolita.
(spot the zen masters amongst the boulders? ☝️)